Review Summary
BucketBoss/Pull'R Holdings, LLC
54052
Data-Comm Multi-Pouch
Suggested Retail $8
Reviewed by Leon A. Frechette
02/14/07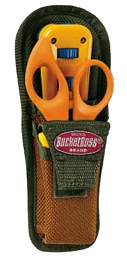 BucketBoss Brand - Data-comm multi-pouch 54052
The BucketBoss Brand Data-Comm Multi-Pouch is cleverly designed with two pockets and a pouch logically organized in a compact 3" wide x 7" long x 1.75" deep unit. The back and main pocket comfortably house a utility knife, the middle pocket (behind the front pouch lid flap) snugly accommodates any data-comm scissors or tool up to 6 inches long, and the front pouch holds small items such as wire nuts. The flap keeps the items from falling out and is held in place by hook-and-loop tape sewn into the unit.
The steel clip holder on the backside of the unit makes it easy to attach to your belt, tool belt, or apron. The Multi-Pouch offers many set-up options: electrical, general carpentry, or communication. You may need to purchase and set up several multi-pouches for convenience.
As with other BucketBoss Brand products I have reviewed, quality always meets the highest standard, and I don't see any differences here. The Multi-Pouch is made from rugged denier fabric (ballistic nylon) with reinforcement on the rim, so it will hold up to both everyday and extreme punishment. You can't go wrong adding a few of these units to your toolbox.



CLICK LINK BELOW TO PURCHASE FROM AMAZON
Bucket Boss 54052 Data Comm Multi-Pouch
Copyright © 02/14/07 LAF/C.R.S., Inc. All rights reserved.
Looking for home improvement Q&As? Click here!
[ Back to Top ]
---