Review Summary
Brown Bag Company
22602
Alpine 16" leather tool bag
Priced at $199
Reviewed by Leon A. Frechette
08/10/06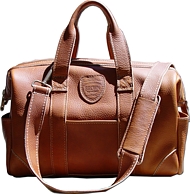 Brown Bag - Alpine leather tool bag
There is nothing more pleasant than the aroma of leather, and the Brown Bag Company has captured it in their Alpine collection of leather goods, from mailbags to tool bags. These products are manufactured with superb quality in the US.
Brown Bag Company has been in business 23 years developing innovative products, such as tool belts, tool bags, and kneepads for other brands. One product of which you might be aware is the Bucket Tool Organizer of 1993.
Now Brown Bag has their own line of leather goods, and it was a real pleasure to review their 16" leather tool bag. The quality is hard to describe; you really need to touch, see, and smell this product to appreciate its beauty. The bag's stress points at all four corners are double-layered including the bottom of the bag.
The tool bag itself has 12 pockets (10 inside and 2 outside), and the two outside pockets feature sewn rolled-over top edges for strength and a neat finish. It's unfortunate that the inside pockets don't also feature such nice finishing touches.
The beige-colored heavy nylon thread used to reinforce the bag also adds character with its eye-appealing design. Even the removable padded shoulder strap has been sewn the length of both sides of the strap to carry out the theme. While the heavy-duty zipper teeth are made of nylon, the zipper hardware itself is made of metal and matches the leather's earth tones. The carrying handle is double constructed and carefully sewn to comfortably fit the hand.
As I see it, this bag is so beautiful that I'm not sure I want to put my tools in it. On the other hand, I know that this 16" wide by 7" deep by 12" high bag will hold whatever tools I put in it and still be here for the next generation.

Copyright © 08/10/06 LAF/C.R.S., Inc. All rights reserved.
[ Back to Top ]
---