Review Summary
Wolfcraft
3629
Pistol Quik-Clasp Clamp
Suggested Retail $3.97
Reviewed by Leon A. Frechette
08/12/06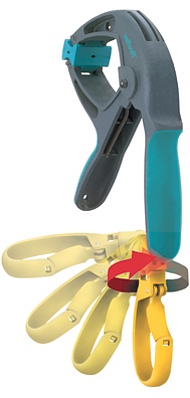 Wolfcraft - Pistol Quik-Clasp clamp
Wolfcraft continues to develop innovative clamping products year after year. Their Pistol Quik-Clasp is no exception, and its slogan, "Hang it. Hook it. Hold it." pretty accurately describes this clamping tool.
The Quik-Clasp can be used as an standard hand-held clamp or as a hanging clamp, i.e., a clamp that can be hung while it holds an item. The unit has a built-in hook on the end of the stationary handle that can rotate 360 degrees. When the hook is rotated up into the ergonomic pistol grip handle, the unit can be used as a normal hand-held clamp.
Smaller hands might find the spread of the handles a bit wide for comfortable use when opening the jaws. In the open position, the jaws spread to 2" wide by 3" deep, and the tips of the jaws rotate as well. The outside handles sport teal-colored elsomer (rubber) inserts to help prevent fingers from slipping off the handles and assure a tight and comfortable grip during use.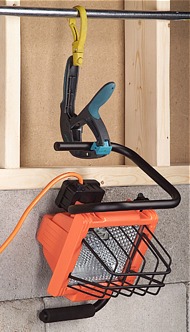 I find the overall design to be very intriguing. I can attach this clamp to the bottom of a floor joist and hang an electrical extension cord from it or hang the unit from a 3/4" water pipe to hold a work light from its jaws. There are endless possibilities for putting this product to work around the home and shop. Its heavy-duty spring accommodates a large work flashlight with ease—I personally tested that.
During testing I discovered that it would have been helpful if the hook's swivel part locked in different positions so I would have the freedom to target the flashlight toward a direct spot. Perhaps that will be Wolfcraft's next product revision.
This indeed is a problem-solving clamp—consider adding a couple of the Pistol Quik-Clasp Clamps to your tool collection. You will not be disappointed with its performance or the price.
Copyright © 08/12/06 LAF/C.R.S., Inc. All rights reserved.
Looking for home improvement Q&As? Click here!
[ Back to Top ]
---