Review Summary
CorrosionX Technologies Corp.
24103
Xtreme Clean
Priced at $9.55
Reviewed by Leon A. Frechette
11/06/10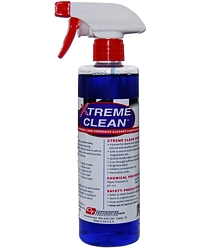 CorrosionX - Xtreme Clean
Xtreme Clean is a concentrated water soluble, biodegradable, non-flammable, non-corrosive, non-toxic, heavy duty cleaner for all kinds of tough jobs. It is safe to use on all painted surfaces (test surface in an inconspicuous area first); metals; stone and concrete; electrical insulation; and plastic surfaces.
Xtreme Clean is great for steam cleaning and pressure washing; cleaning tools and implements; cleaning aircraft surfaces; removing black streaks, brake dust, grease, and oil; truck washing; removing exhaust soot; and—best of all—removing green algae off boat sides and bottoms.
Xtreme Clean Highlights
A powerful cleaner and degreaser that's gentle on natural and sensitive surfaces.
Safe to use on exotic materials such as carbon fiber, magnesium, etc.
Quickly breaks down carbon and exhaust soot.
Cuts through tough road and industrial grime.
Brightens paint.
Inhibits corrosion and rust.
Neutralizes acids.
Removes green algae off sides and bottoms of boats.
DIRECTIONS
General Cleaning: May be diluted up to 20 parts water to 1 part Xtreme Clean depending on application. Product can also be used full strength for stubborn dirt. Can be applied with sponge, rag, brush, or sprayer. Rinse and allow surfaces to dry.
Steam Cleaning: Prepare solution of 60:1 water and Xtreme Clean. Heavy degreasing may require a lower dilution ratio.
Removing Green Algae: From personal experience, I found it helpful to first wet down the boat and use a solution of 20 parts water to 1 part Extreme Clean. Work on one side of the boat first; you will remove about 96 percent of the green algae in the first cleaning along with any other existing dirt. After rinsing, you'll notice how bright the boat's surface will appear. For the remaining 4 percent, I found I had to use Xtreme Clean full strength with a fabric scrubber sponge to completely remove the algae. Once the algae is completely removed, rinse the boat and wipe it down with a white cotton terry cloth.
A good recommendation is to protect the boat bottom with RejeX at the beginning of the season before even putting the boat in the water. RejeX helps prevent the algae from both adhering and staining. The combination of RejeX application at the beginning of the season and Xtreme Clean at the end of the season sill cut the removal of ugly green algae by at least 50 to 60 percent. I know—I've been there!
Another tip—and if the opportunity lends itself—is to wash the sides of the boat before taking it out of the water; better yet, if the resort/boating area has a wash stall, then wash the algae off before transporting the boat. When algae is allowed to dry, it becomes difficult to remove from the boat, especially on the sides where it is most noticeable.
Xtreme Clean will clean your hands as well. If you have sensitive skin, consider wearing rubber gloves before starting the process of removing algae.
Xtreme Clean is one earth-friendly all-purpose cleaner that should be part of your maintenance kit!

Copyright © 11/06/10 LAF/C.R.S., Inc. All rights reserved.
[ Back to Top ]
---