Review Summary
DeWalt
DC011
Work Site Radio & Charger
Priced under $130.00
Reviewed by Leon A. Frechette
09/11/00 Updated 07/31/06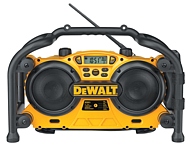 DeWalt - Work site radio & charger
Nothing is more discouraging than to have a battery on your cordless tool die—just as you near the end of your project. Even worse is to reach for your spare battery (if you have one) only to find it dead because you forgot to charge it. What do you do? My guess is that you'll reach for the charger and wait an hour for the battery to recharge. Why not charge it with a little class? How about listening to your favorite radio station while the battery does its thing?
In September of 2000 I tested DeWalt's DW911 work site radio/charger—a combination unit that charges batteries and plays your favorite radio station.
Now in 2006 I tested their updated version, DC011, and I personally like the unit's new stylish looks. The AM-FM full- stereo radio delivers sound that could easily match a full-blown stereo system. What makes this unit different from other radios on the market is that DeWalt combines the technology of a three-stage charging system with a radio which can run off AC, a portable generator, or their own brand of batteries. If you choose to power the unit with a battery, I recommend that you remove it when not in use so the battery doesn't drain.
The unit charges DeWalt NiCd batteries from 7.2V to 18V in one hour or less. The three-stage charging system:
quickly brings a battery pack to full charge;
brings each cell to an equally full level;
and allows the battery pack to remain in the charger for extended periods to keep it fully charged and ready for use.
The charger will not accept batteries made by other companies; however, to listen to the radio you can use a battery from 7.2V to 18V. I tested the unit with an 18V battery and it ran just about 11 hours before it died—that's great considering the sound it delivers.
The 10-watt radio volume equates to about 92 dB (decibels). For those who don't understand how loud this actually is, well, an auto horn only three feet away can reach 110 dB. Unlike the earlier version which had a volume control with seven settings, this unit has a simple volume control. It also appears that the volume set at max could be loud enough to be heard over a portable generator or circular saw. The unit has a great bass tone with a very crisp sound that's enjoyable to listen to at normal volume even while wearing hearing plugs. There's no reason for me to listen to it above the sound of running tools, so I won't be testing to learn just how loud the max volume really is!
I've been told by the manufacturer that the DC011 is up to 78 percent louder and offers up to 65 percent better reception than their original DW911 model. I have tested them side by side and it's hard to tell whether or not the new unit is louder because they are both high volume.
One difference I noted was that when the DW911's volume was turned up, it began to distort; the new DV011 at the same volume level sounds very clear. This could be due to the high-efficiency speakers which feature two bass ports for maximum bass response. I believe the better reception and speakers definitely make the entire unit sound better. There is indeed a big difference in the quality of sound over the older model.
The radio is water-resistant—not waterproof—and has sealed control knobs in a plastic case and speaker grills made of rust-resistant steel. It is also built like a tank! It sports DeWalt's trademark yellow-and-black color combination and has a protective roll cage with rubber shock mounts built around the unit to help it withstand drops which may occur out on the job site. There is more room under the handle vs. the DW911. The unit weighs about 3.2 pounds.
One thing I noticed right away is the storage case for a couple of CDs or a CD player attached to the side of the unit. Personally I would have preferred a built-in CD player instead of having to use their auxiliary input to hook up a CD player. The 6-foot flexible power cord nicely stores on the bottom of the unit and is held in place with a built-in cord clip that actually works.
Other new features include a digital tuner with LCD display, built-in clock, eight station memory presets, and a dual pivoting 11-inch flexible antenna which delivers better reception than the last unit.
I would still like to see a couple of additions to the unit. One suggested improvement would be to have a second charger built in to the system, similar to one they used to make (the DW9090) so other manufacturers' batteries could be charged. If you are like me, you don't rely on just one battery brand. Also, if this is a workstation, why not have a receptacle outlet built into the back? It seems only natural if you are plugged in to have the option for an extra outlet.
If you'd like to listen to great tunes as you charge your batteries, this puppy is for you.



CLICK LINK BELOW TO PURCHASE FROM AMAZON
DeWalt DC011 Combination Worksite Radio and 7.2-Volt to 18-Volt Pod Style Battery Charger



CLICK LINK BELOW TO PURCHASE FROM TOOLKING
DeWalt DC011 Heavy-Duty Worksite Radio/Charger
Copyright © 09/11/00 & 07/31/06 LAF/C.R.S., Inc. All rights reserved.
Looking for home improvement Q&As? Click here!
[ Back to Top ]
---