Review Summary
Bosch
PB10-CD
Power Box Advanced
Priced under $179.00
Reviewed by Leon A. Frechette
08/04/06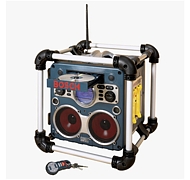 Bosch - Power Box Advanced
When I think that no one can build a better mousetrap, Bosch introduces a job site radio that beats the leading competition.
When I first took the unit out of the box, I wasn't sure what I had. Alive with personality, it looked like something from another planet. The speakers in the front appeared to watch my every move. Actually, this is a well-designed unit that combines an entertainment center with a power supply.
The CD player first attracted me to the Power Box. The unit has AM/FM features, but I was primarily interested in playing my blues CDs. It also has a "repeat" mode, not found on many CD players, so I can continue to listen to the same CD without pushing the repeat option on the mini remote control. The MP3/CD-R/RW compatible CD player is equipped with anti-skip technology.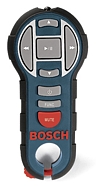 The multi-function remote, downright cute, is very impressive, especially considering its size. Designed to attach to a key chain or belt loop, it can be stored in the Power Box carrying handle when not in use. The remote allows you to increase or decrease the volume, choose a CD mode, select the mode feature for aux/CD/radio, mute the music, or simply turn off the unit.
Bosch is designing accessories for the Power Box; personally, I'd like to see a multiple CD player/changer in the front. That would be icing on the cake!
The unit runs off Bosch 12v, 14.4v, 18v, and 24v batteries or AC Power. It can also charge those same batteries when plugged into an AC outlet while you listen to the radio or use the CD player. In fact, you can even use the 4-way GFCI-protected outlets to power other equipment. I tested this feature by running my pancake compressor and another power tool, and both worked without any hiccups. The 12-volt DC power outlet is great for charging a cell phone—a truly useful feature indeed!
Think of the Power Box as an oversized extension cord that really delivers great music. Speaking of music, it sports a 360-degree flexible antenna with an advanced digital tuner and 20 FM preset channels. The sound quality on the radio alone is excellent, and it's even better on the CD player. In addition to its premium speakers, a control allows you to select different bass and treble levels, giving you some control over sound quality. The unit also has five preset EQ settings and enhanced "Bosch Sound" Technology (similar to the technology on a sound surround system). Unfortunately, the volume control has 20 preset settings, not my favorite feature because it doesn't give me full control over the volume.
The 6' 6" power supply cord is heavily constructed using an outdoor rated jacket; however, the cord stiffens up in a cold environment. The four cord holders for the supply cord on one side of the Power Box seem a little flimsy, but I have been assured that I should not experience any trouble with them because the holders are made from ABS Nylon, the same product Bosch uses in their Brute Tough Drill bodies. ABS, of course, is inherently flexible. The cord clip attached to the plug works as designed by clipping around itself.
The buttons, speakers, and battery chamber are all sealed to protect the unit from dust and Mother Nature. Its large blue illuminated digital display makes for easy viewing, and you'll enjoy its space age look. The overall unit weighs 24 pounds; the Power Box itself is 11 inches square and is protected by 14-inch square aluminum roll cage.
I've been told that the Power Box can withstand a 10-foot drop, but I'm resisting the temptation to put it to the test. There are other features I will leave for you to discover.
Bosch offers an unconditional one-year warranty, 30-day money-back guarantee, and a one-year service protection plan.
You can't go wrong with Bosch's Power Box Advanced or its warranty—you get power, you can supply power, and you get entertained all at the same time.



CLICK LINK BELOW TO PURCHASE FROM AMAZON
Factory-Reconditioned Bosch PB10-CD Power Box Jobsite Radio with CD Player & Remote Control



CLICK LINK BELOW TO PURCHASE FROM TOOLKING
Bosch PB10-CD Power Box AM/FM CD Jobsite Radio with 4-Way Power Outlet
Copyright © 08/04/06 LAF/C.R.S., Inc. All rights reserved.
Looking for home improvement Q&As? Click here!
[ Back to Top ]
---