Review Summary
Wobble Light, LLC
WL175MH
Wobble Light 175 Metal Halide
Suggested Retail $190
Reviewed by Leon A. Frechette
04/08/07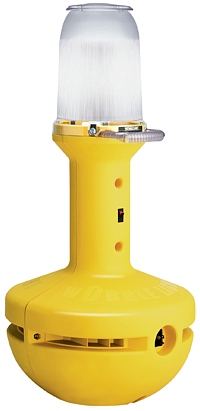 Wobble - Wobblelight Sr.
Nothing is more frustrating than to attempt a home improvement project in poor lighting. If you rely on available light, it's never enough or too far away to do any good.
Lighting tripods are a pain to adjust because the fixture's too hot to touch, the light(s) are too bright, the tripod is too big, and it's easily knocked over because there's usually not enough room to set up the unit properly.
I believe I have found the perfect light for use at home, on the job site, and in a commercial environment: the Wobblelight by Wobble Light, LLC. It's got to be one of the most unusual designs I've ever encountered, but the product's functionality relies on its design. As you can see in the image (right), this light stands 3 feet tall, has a base diameter of 18 inches, and weighs around 26.5 pounds.
The name Wobblelight reflects the product's function. No matter how many times you knock this unit over, it bounces right back into place. In fact, its counterweight design prevents you from laying it down. The unit immediately repositions itself upright when knocked over.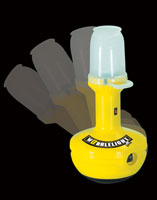 Wobblelight's built-in floating shock system protects the bulb from jars and strikes if the unit gets bumped. The bright yellow housing is made of durable polymer that can take abuse.
The polycarbonate light dome helps resist impacts. The unit's internal ventilation system helps keep the system cool enough that the dome can be touched. Basically, a cool air intake helps move warm air out through an outlet in the top of the dome.
The carrying handle incorporated into the lower section of the dome is held in place by two fasteners, making it very secure and allowing for easy transport of the unit.
The on/off switch is in the middle of the neck for easy visibility and function. Another nice feature allows you to determine the length of the power cord. However, Wobblelight's best feature is the way you can daisy chain a few together, an ideal arrangement for a party or just to expand the lighting area, indoors or out.
Wobblelight offers many units, from residential to commercial, and all with different light output. The light I reviewed has a 175-watt metal halide bulb with a light output diameter of 30 to 42 feet. It provided plenty of light for my basement plumbing and electrical projects. The light output is 15,000 lumens, so it would take twelve standard 100-watt light bulbs to compare to the 175-watt metal halide. Typical with any halide light, it requires a few minutes to warm up to full brightness.
The company also offers a heavy-duty nylon lightweight reflector shield to confine the light to a 180-degree arc. I tested it but have mixed feelings about its function. Basically, it blocks the light on one side of the dome so you don't get a full 360 degrees of light. It doesn't throw more light into the unshielded area; it only blocks the 180 degrees where you don't need or want light. It really comes down to your specific situation and whether or not you need to block some of the light.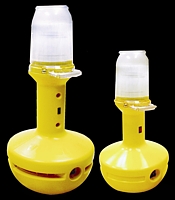 The photo to the right shows the Wobblelight Sr. to the left and the Jr. model on the right, which I also tested. The WLJ85F that I tested features a 425-watt fluorescent bulb that turns on as soon as you hit the switch. Once this puppy heats up, it throws off a lot of light in about a 20-foot diameter range. It stands 27 inches high, has a 13-inch diameter base, and weighs about 16 pounds. This light is great for use in tight quarters, for example, in a crawl space. The Wobblelight Jr. sells for under $100.
No matter what model you select, the Wobblelight is durable and virtually indestructible so it can take abuse and provide sufficient light for any project or event. Whether you are a homeowner, fireman, remodeling contractor, building contractor, or painting contractor, this is one light you should not be without.
The company calls it "The Toughest Work Light on the Planet!" And I have to agree!



CLICK LINK BELOW TO PURCHASE FROM AMAZON
Wobble Light Self-Righting 175-Watt Metal Halide Work Light, Yellow #WL175MH
Copyright © 04/08/07 LAF/C.R.S., Inc. All rights reserved.
Looking for home improvement Q&As? Click here!
[ Back to Top ]
---