Back in 2000 I tested Mantis's gas-powered tiller and cultivator and posted the results. Last year a site visitor read our review and asked if I knew anything about Mantis' electric tiller. At the time I didn't know that one was coming on the market so I was caught a little off guard; however, it gave me an opportunity to bring it in to test.
Boy, did I test it—I had a ball with this little gem! Weighing in at 21 pounds (1 pound more than the gas unit), there's plenty of power under its hood. The unit is equipped with three speeds that allow the tines to spin at up to 240 rpm.
The 9" tines can till soil up to 10" deep, and by placing the right-side tine on the left-side axle and the left-side tine on the right-side axle, you can gently cultivate the surface to a depth of 2 to 3 inches. The motor is amazingly quiet.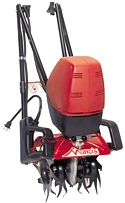 In my raised garden, there's no room to work with a full-sized tiller. Mantis' compact electric tiller is comfortable to use within the confines of this area. While the gas unit worked just fine, exhaust in my small garden was an issue.
Now, with an electric tiller, I don't worry about it. The tiller's handles fold for easy transport and storage, and the built-in handle simplifies carrying the unit.
Gas or electric, the tiller needs a kickstand to keep the tool upright if you need to park it for a few minutes or to keep it stationary for effective cleanup. Fortunately, a kickstand is now included with the electric unit as of 01/01/07. Also, its black handles don't show the dirt.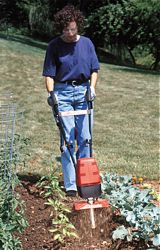 I especially like how all the accessories for the gas-powered tiller—the border edger, lawn aerator, lawn dethatcher, plow, crevice cleaner, and planter/furrower—are interchangeable with the electric tiller.
Also available (for an extra $74.95) is Mantis' cord management system: a 30-foot cord, reel, stake, and 50-foot extension cord. The handle has a built-in extension cord holder so there's no worry about the cord unplugging from the unit.
This mini-tiller is the perfect choice for both professionals and homeowners. The quiet electric motor starts instantly and never needs fuel. It also carries a 2 year warranty.
Copyright © 03/06/04, 03/12/07, & 05/10/10 LAF/C.R.S., Inc. All rights reserved.
Looking for home improvement Q&As? Click here!
[ Back to Top ]
Related Search Terms: Product Reviews, Mantis, gas tillers, electric tillers, cultivators, mantis reviews, Mantis products and accessories