Working in the garden is one activity that allows me to collect my thoughts for the day and just spend some peaceful quiet time away from it all. Before I know it, I've lost all track of time because harvesting or pulling weeds is so absorbing.
When you get really involved in gardening, you seem to spend more time in nursery stores than actually in the garden as you seek out better quality seeds, plants, fertilizers, and tools. Then there are pesky bugs and birds to deal with, not to mention all the nasty weeds that attack your creative efforts. It all goes with the territory!
Personally, I like to keep the rows between my plants clear of weeds. One tool we have all used for this purpose is the hoe—I am the proud owner of a whole collection of hoes. However, today I don't reach for a hoe; instead, I reach for a tiller/cultivator that makes gardening a lot easier.
New Review 01/30/06: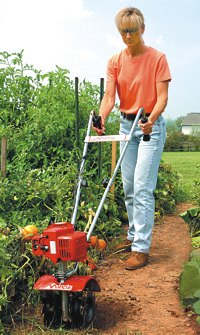 In August 2000 I tested the Mantis Tiller and Cultivator and have been using it ever since in my barrier-free (raised) garden. Now Mantis has updated the unit so it arrives completely assembled, including the kickstand and border edger. It takes just a few minutes to raise the upper handles into position, tighten the knobs, and mix the gasoline—and you're off and running. I'm pleased to see these changes.
Mantis also offers accessories that turn this unit into a planter/furrower and border edge, lawn thatcher (see update below), aerator (see update below), and crevice cleaner.
At only about 20 pounds and with a built-in carrying handle, this tiller/cultivator still has to be one of the lightest units I have ever picked up. The folding handles make it very easy to transport.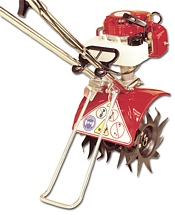 Due to the tiller's design and because it's so lightweight, the unit will not stand up on its own so Mantis added a kickstand, probably the best addition to the unit. Similar to a bicycle kickstand, it flips up when the tiller is in use and down to stabilize the unit. However, I want to point out that it is not advisable to allow the unit to run while it is supported by the kickstand. Vibrations from the engine will cause the kickstand to flip up into the closed position, allowing the unit to fall.
The handle grips are much improved. Previously the tiller's extended right handle grip supported the unit when the user laid it down. Unfortunately, both grips were white which really showed dirt under normal use. Now the handgrips are black and ergonomically designed for a very comfortable grip.
Another major change is the handle throttle assembly. Before, it looked like an afterthought; now it's incorporated into the well-designed handle. The toggle switch that was used to stop the engine has been replaced by a thumb rocker switch built into the upper portion of the handgrip. While this is a convenient location, it is very easy to accidentally turn off the unit if the user is wearing gloves or if the user's hand should slide up and rotate on the upper portion of the handgrip.
The tine guard has been improved to prevent debris from kicking back toward the user. Now it curves downward in the back so the guard is closer to the tines.
Even with these positive changes, there are still a few things that were not updated. For example, the gas tank filler cap is too close to the starter rope handle, which makes it awkward to fill the tank with gas. However, its new cap style makes it easier to remove.
The metal cable tie downs are now plastic, but they don't hold the throttle cable or stop/switch wire in place as well as the metal ones. I preferred the metal cable tie downs. I solved the problem by installing a few black plastic cable ties around the cable, wire, and upper and lower handles.
I expected Mantis to correct the choke pull lever. It was—and still is—hard to grasp, and wearing gloves only makes it worse. It would be helpful if it were extended about another half-inch away from the air cleaner cover. This is a nail breaker for sure!
Any product purchased directly from the company can be returned within one year for a complete, no-hassle refund—you have nothing to lose. The unit also carries a limited warranty against defects in material and workmanship for a period of two years from the date of purchase. I believe you'll be sold for life once you put it to the test. This product is still a winner in my book.
---
Updated 10/16/09:
I always winterize my gasoline tools so when spring rolls around, I pull out the spark plug, pull a few times on the starter cord to clean the oil from the combustion chamber, reinstall the spark plug, refuel, pull the starter cord and I'm up and running. Well, this year it didn't start as it should have, so I ran down to our local tool store and purchased the Mantis Tiller Handy Item Kit, which cost about $20. I replaced the air filter pad and spark plug and I was up and running within minutes. My point is to encourage you to check the air filter pad and spark plug each year. It does make a difference on the performance of the unit.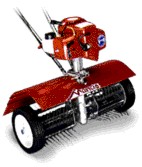 I also had the opportunity to test the Mantis Lawn Dethatcher accessory—dynooomiiite! Have you ever tried to dethatch your yard by hand? It's a time-consuming—and back-breaking—project. Over time, a buildup of old, dead growth called "thatch" (not mower clippings as is commonly believed) can actually start to choke off the air supply to the lawn's roots causing the lawn to look stressed and lifeless. When a lawn is in this condition, then it's time to dethatch. I simply removed the tilling tines and slipped on the 60 spring-steel pick dethatchers that made up a 15" wide path and I was off and running.
It was a thrill to do this project. When testing the unit, I found it more effective to pull the unit than to allow it to run forward. If you don't have the accessory dethatcher, I highly recommend getting it because it will do the job effortlessly in minutes instead of hours if done by hand. The cost is around $119. Now all that's left is to aerate, and Mantis has the Lawn Aerator to fit the tiller. I'll post my findings after I test it.
---
Updated 10/16/09:
I finally had an opportunity to test the Mantis Aerator accessory on my lawn this spring. At first I wasn't sure what was happening. Similar in design to the tines of the tiller, the aerator's tines are straight, not curved. As they rotated, they made thousands of slits in the lawn's surface, roughly 3 inches deep and only a few inches apart. They also brought up the remainder of the thatch.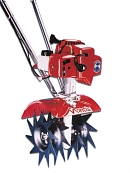 This was my first experience with aeration so I wasn't sure what kind of results to expect. As it turned out, shortly after testing the lawn aerator we had a rainy spell and our lawn came in lush and green. That's a good thing—except that now it needs mowing every week!
Some aeration tips: Aeration allows oxygen and moisture to reach grass roots to promote thicker and greener growth. To achieve the most benefit from this procedure:
Water the ground thoroughly before aerating.
Aerate once a year: cool-season grasses in early fall and warm-season grasses in the spring.
Follow up the procedure with a seasonal application of fertilizer and water.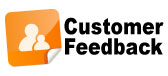 Copyright © 08/18/00, 05/10/01, 06/25/02, 01/30/06, 08/11/09,
09/02/09, 10/16/09, 05/30/10, & 11/06/11 LAF/C.R.S., Inc.
All rights reserved.
Looking for home improvement Q&As? Click here!
[ Back to Top ]
Related Search Terms: Product Reviews, Mantis, gas tillers, electric tillers, cultivators, mantis reviews, Mantis products and accessories