The WORX JawSaw is what the slogan says it is: "The chainsaw, re-invented." When I first saw it in October 2011, I thought it looked like a piranha ready to attack. Then, when the chainsaw bar dropped into cutting position, it looked like a creature from an alien movie!
This is one unusual looking chainsaw. It may not replace a traditional gas or electric chainsaw, but it is certainly a useful complement.
If you have never used a chainsaw, this is the one for you because JawSaw is fully enclosed.
It's pretty safe because the 6-inch chainsaw bar and blade remain hidden in the jaw guard until the user plunges down on the handle. Of course, as with all tools, the user needs to employ some common sense, wear eye protection, and know where feet and hands are at all times.

I found that the JawSaw works especially well for pruning and trimming trees and shrubs and chewing up greenery on the ground. I tested it for their infomercial in our backyard driveway covered with 3/4" crushed gravel. It's designed for use directly on ground or pavement and it works: not once did the chainsaw touch the gravel.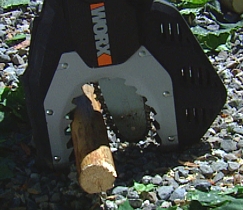 The jaw's design allows it to cut branches up to 4 inches in diameter. When you put the jaw over a branch on the ground and plunge down on the unit, the chainsaw blade lowers and picks up the branch and forces it to the mouth (top inside area) of the jaw, holding it securely with its steel teeth. It will hold it there until the cut is complete and you lift up on the spring-loaded handle. The diameter of the branch—up to 4 inches—does not matter.
I was impressed with how quickly and safely it chewed through greenery. I actually spent more time cleaning up the cuttings than working to cut them. It was also a real pleasure to be able to stand up on the job and cut up greenery without having to bend down, something I would have had to do with my gas chainsaw. Incidentally, I also tested it on 2x2s and 2x4s and it works just fine.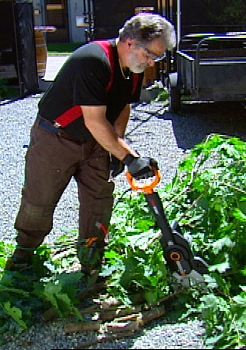 JawSaw weighs just under 9 pounds and is very comfortable to use. It's electric—not gas—so there are some limitations on where it can be used, depending on the power source and length of the extension cord. One thing I did not like about JawSaw's design was the 16-inch electric pigtail which is way too short. It's an awkward length and the connection with the extension cord is always in the way when using the tool. A 10- to 12-foot electrical cord would be a much better length.
After about 3 hours of testing, I noticed that a couple of the teeth were bent inward; however, since that time (October 2011), the teeth have been reinforced. Also during that time period, the manufacturer discovered fractures in the engineered plastic chainsaw blade housing just under the electric motor housing. This area has since been redesigned and reinforced so JawSaw can take the abuse from use and from any motor vibrations.
One area that needs attention is the rubber cap on the chain bar oil filler. If you wear work gloves, you will hit the cap during use and lift the cap off the opening. WORX tells me that they are aware of this situation and it will be addressed. JawSaw requires chainsaw bar oil specially designed for use with electric chainsaws, not the type of oil used with a gas chainsaw. I also recommend that you use the oil bottle that comes with the unit for easy refills of the bar oil reservoir. The oil bottle I received did not come with a cap (something else they are working on). If you get an oil bottle without a cap, take care to not tip the bottle: the very thin bar oil will spill and create a real clean-up job.
The JawSaw's auto tensioning system automatically sets proper chain tension during use, and the chain is automatically lubricated during use.
The manufacturer sent me an optional extension that permits a total reach of 12 feet. I haven't tried it yet because I have some concerns about lifting the entire unit out 12 feet above my head, even though the unit weighs a little less than 9 pounds. This seems to be a little on the heavy side for such a lengthy extension; I think this is a tool that should stay closer to the ground.
This is a great unit for clean ups on the ground and in areas where the user is able to comfortably lift it. The blade housing allows for safe cutting, making it an easy and safe way to prune, trim, and clean up debris. At $129.99 with a two-year limited warranty, JawSaw is worth the price tag. I enjoyed using the JawSaw and I know you will too. I can honestly say that WORX has re-invented the chainsaw!
---



CLICK LINK BELOW TO PURCHASE FROM AMAZON
All WORX JawSaw (chainsaw)
Copyright © 03/24/12 LAF/C.R.S., Inc. All rights reserved.
Looking for home improvement Q&As? Click here!
[ Back to Top ]
Related Search Terms: WORX, JawSaw, chainsaw reinvented, clean up debris, pruning, trimming trees and shrubs, chewing up greenery