Review Summary
Bosch
1617EVS
Fixed-base router
Priced at $170
Reviewed by Hugh Foster
08/20/00
Updated 02/14/07 by Leon A. Frechette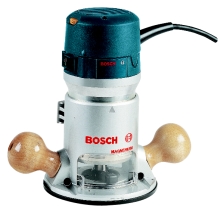 Bosch - Fixed-base router 1617EVS
From 1995 through about 1997, I visited the various tool companies at The National Hardware Show with a simple request: as tools become ever more refined, how about giving us a variable speed router for folks who use router tables.
Plunge routers are very handy for free-hand routing, but fixed-base routers are really far more useful when we use router tables. Moreover, router bit makers prefer that we use most of their larger pattern bits only in router tables. By the time of the 1998 National Hardware Show, two companies had delivered variable speed fixed-base routers. Either of them would be worth using in your shop, but the Bosch quickly became my favorite router!
Here are the features found on the Bosch 1617EVS (electronic variable speed) Fixed Base Router:
Long, rubber-wrapped, double-insulated cord—the cord alone may make this worth its premium price.
The lightweight magnesium construction that kept this powerful tool very manageable since 1998 has now been changed to aluminum.
Wood handles may be the only link to the past on this tool. (I might have preferred handles like the ones on my Bosch 1614EVS plunge router, but these wooden handles are far better than just okay.)
Separate 1/4" and 1/2" collets eliminate the need for insert sleeves—greatly enhancing safe operation.
Bosch's cam-action coarse adjustment is a far cry from the thumbscrews on earlier models (their 1617-18 routers do not offer this feature).
The fine adjustment matches that of the Bosch plunge routers—and can be fine-adjusted (as far as about 1/8") even after the router is locked down. I see this precision depth of cut adjustment as THE most important single key to precision routing.
Router speed is set with a dial, much preferable to setting speed based on the amount of trigger pull, as is the case with all Bosch EVS routers. The "standard" Bosch edge guide fits precisely but is an accessory rather than standard operating equipment.
The templet bushing mount is standard, though the templet bushings are accessories, sold as single units. Having a second plastic base might be preferable to mounting and unmounting the base and the mount for these. Bosch points out that a templet "mount" adapter would be less cumbersome with only two screws to adjust, rather than three screws with the method described above.
These are the quickest bushings to change. I recommend purchasing the whole set rather than one at a time as you need them. The time between "as you need them" and "when you get them" will frustrate you—unless your local hardware store is far better stocked than mine (likely? Not very.). As I write, some vendors are providing a set of bushings as a "bonus."
Overall, this may be the most exciting new tool I have seen in or since 1998. It has already taken a prominent place in my woodworking arsenal—it will replace your plunge routers for many operations. I cannot commend it to you highly enough.
Power specifications are 2HP/12 amp, 8,000-25,000 RPM, but the ranges are not spelled out on the router. (Bosch brings to our attention that the rating for the tool is actually 2.25HP based on industry standard measuring methods. This applies for both the 1617EVS and 1618EVS.)
The tool is Made in USA. Isn't it interesting to note that this German router is made in the USA for use here and for export to other parts of the world, including Germany!
The router stands flat on its top for cutter changing—after you have had a router with this feature, you'll never settle for one without it.
The no-load noise measures 82-96 dB, very quiet, but you'll still need to wear hearing protection.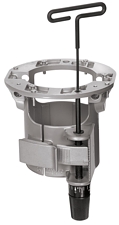 While the 1617EVS router is about $40 more expensive than the only other EVS router on the market (at $170 the 1617EVS is priced similarly to most 2.25HP fixed-base router category), its thoughtful design and easy-to-use features make it the most desirable router you can run in your router table—and you'll likely find yourself using it freehand as well. Giving the Bosch 1617EVS Fixed Base Router highest marks is very easy; it is, quite simply, the slickest router I've encountered. Emphatically recommended!
Since the time of the original review Bosch rolled out an above-table adjustment feature as a standard on 1617EVS routers as shown to the right. They also offer an accessory base with this capability for those who purchase older models or kits that have not been transitioned over yet.
Also available is their combo kit (1617EVSPK)—the combo pack offers both the fixed and plunge base. Here you get the best of both worlds. Both bases are equipped with quick-clamp conversion locks, a Bosch exclusive system that allows the user to quickly transfer the motor from base to base without extra tools.
Now with such accessories as router tables, under-table bases, dust hoods being available on the market today only helps to take full advantage of the router and its uses.



CLICK LINK BELOW TO PURCHASE FROM AMAZON
Bosch 1617EVS 2-1/4-Horsepower Variable-Speed Router



CLICK LINK BELOW TO PURCHASE FROM TOOLKING
Bosch 1617EVS 2-1/4-Horsepower Variable-Speed Router
Copyright © 05/04/99 & 02/14/07 LAF/C.R.S., Inc. All rights reserved.
Looking for home improvement Q&As? Click here!
[ Back to Top ]
---