Review Summary
Ryobi
RS241
5" Random Orbit Sander
Priced under $50
Reviewed by Leon A. Frechette
02/24/99 Updated 02/14/07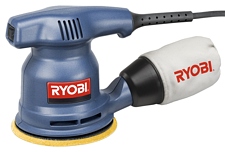 Ryobi - Random orbit sander RS241
Ryobi's Random orbit sander RS241 hums along at 12,000 orbits-per-minute and accomplishes some nice finish work with a 2.4-amp motor and very little vibration. I found the unit comfortable to handle and use—weighing in at 3 pounds. The sanding pad accommodates pressure-sensitive sandpaper and includes an accessory for hook-and-loop paper. The dust collection system is good—but not the best as it uses a cloth dust bag.
The unit's spin-control brake helps to eliminate accidental damage to the work piece if the sander should start up on its own. The switch is dust-proof. One thing that bothered me (and it's a pet peeve of mine) is the power cord: first, it's only 6-feet long. It would have been nice to see it at 8 or—even better—10 feet. Second, it's vinyl. Vinyl cords are user-unfriendly: very hard to wind up for storage and won't lay flat across the work piece. While the unit seems to be priced right, I would be willing to spend more if it featured a 10-foot rubber power cord. If you can live with the cord design, the product is worth considering, especially now that the tool has dropped in price to about $12.
The unit has not gone through any major changes since I reviewed it in 1999, with the exception of the color of the cloth dust bag. It went from black to gray and the Ryobi name is embossed in red on the side of the bag—I'm not sure what this change accomplished since the name is also located on the side of the tool. The downside to this product is the fact that the only place you can purchase it is through Home Depot.



CLICK LINK BELOW TO PURCHASE FROM AMAZON
Factory Reconditioned Ryobi 5 inc. Palm Grip Random Orbit Sander with Dust Collection RS241



CLICK LINK BELOW TO PURCHASE FROM TOOLKING
Ryobi 5 In. Palm Grip Random Orbit Sander with Dust Collection RS241
Copyright © 02/14/99 & 02/14/07 LAF/C.R.S., Inc. All rights reserved.
Looking for home improvement Q&As? Click here!
[ Back to Top ]
---