Review Summary
Bondus Corporation
22155
Felo Screwdrivers (5-piece set)
Suggested Retail $33.02
Reviewed by Leon A. Frechette
06/03/09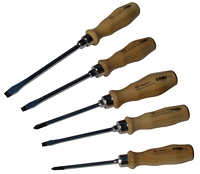 Felo - 5-piece wood handled screwdriver set
Screwdrivers are a dime a dozen, but good quality screwdrivers are hard to come by and normally sport a hefty price tag. In 2008 I was introduced to the Felo line of high-quality German-made hand tools. As I looked at the screwdriver sets they offer in their tool catalog, I discovered a set of wood handled screwdrivers. It caught my attention because I remember my grandfather, a military carpenter, used wood handle screwdrivers. He stored them in a pouch my grandmother made for him and they hung in a closet near the basement door.
I had to try Felo's screwdrivers and, of course, add them to my tool collection. After testing them, I have to say that the Felo 5-piece Slotted and Phillips Screwdriver Set is the Cadillac of screwdriver sets.
What makes these screwdrivers different from my grandfather's set is that Felo screwdrivers feature ergonomic beech wood handles designed to help deliver the highest torque. The smooth handles are seamless for maximum comfort. They are also proportionally designed for the length of the shaft, which makes them comfortable for use in hands of all sizes. I have medium size hands and found them very comfortable to use, but only you can judge the size that is best for you.
One feature I particularly liked about the handles is their built-in anti-roll design. This little feature prevents the tool from taking off all by itself; just think—a screwdriver that doesn't roll off the bench!
When the screwdriver set first arrived, I didn't even have to take them out of their display case to see that they were designed for a precise fit. They just have a quality appearance. While the screwdriver's full-length blade shaft is manufactured from chrome-molybdenum-vanadium steel, the black tips caught my eye. The US distributor tells me that the full-length blade shaft has a Rockwell Hardness of 60, which is very hard.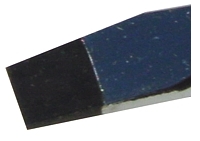 I asked why the chrome stops short of the blade, and they told me it was done on purpose. First, a chrome-plated blade is a little soft and will not hold up under constant use; second, the steel at the tip would have to be thinner in order to accept the thickness of the chrome. Instead, the steel is manufactured at the effective tolerance needed for a precise fit into a fastener head. The black oxide at the tip is much thinner and does not affect the effective tolerance—in reality, the black oxide is a coloring process to give the tip its black color. The blade's tip has a superior fit into the fastener's head, which delivers a greater holding grip that helps when installing or uninstalling a fastener.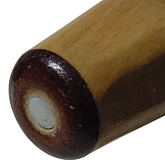 The full-length round shaft features a hexagon bolster just under the beginning of the handle. This allows use of a wrench to help deliver more torque at the tip for those stubborn fasteners.
One of the best features is the full-length blade shaft that allows impact at the end of the handle. Felo incorporated a leather cap into the end of the handle to protect the handle from splintering during impact. Yes, you can use a hammer on these puppies!
Felo's 5-piece Slotted and Phillips Screwdriver Set will also look great in your toolbox. The set includes:
2 Blades with Phillips Heads: PH1 (3.25" shaft) and PH2 (4" shaft).
3 Blades with Slotted Heads: 5.5mm (3/36" x 4" shaft); 7mm (9/32" x 4-3/4" shaft); and 9mm (3/8" x 6" shaft).
The handles and blades are manufactured in Germany of the finest-quality materials and tested to the highest standards so they will maintain a lifetime of use. If you like the feel of a traditional wood handled screwdriver, you'll be impressed with this set. Wouldn't you like to add a Felo wood handled screwdriver set to your tool collection?

Copyright © 06/03/09 LAF/C.R.S., Inc. All rights reserved.
[ Back to Top ]
---