Review Summary
USTape
59952
Folding Utility Knife
Priced under $9
Reviewed by Leon A. Frechette
02/14/07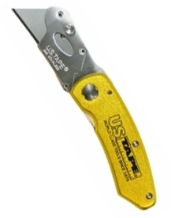 USTape - Folding utility knife
It's not often that I get excited about a new tool, but the Barracuda utility knife from USTape definitely got my attention back in 2003. I was pretty disappointed to learn that the product was dropped in 2007 and replaced with the gold Folding Utility Knife.
The President of the company told me that the market for folding utility knives was heading in that direction and they wanted to follow suit. I surfed the internet to see what was available and was amazed by the number of different types of folding utility knives on the market.
Folding utility knives are priced from $7.95 to under $50 and come in different flavors (colors) and designs. Some have aluminum handles and some are brass engraved; some feature wood inlay while others sport solid wooden handles. Don't even get me started on all the different types of mechanisms!
Another reason for searching the web was to seek answers to questions I had about USTape's Folding Utility Knife—and yes, I did ask the manufacturer the same questions. Unfortunately, what I was told and I what I discovered confirmed what I suspected after reviewing the product. Some of the features that I felt should be there—and were not—were available on other products. Only higher priced units had the additional and safety features I felt should be part of the tool. The USTape Folding Utility Knife is priced at the low end, so don't expect any features.
My first impression is that it is indeed a good-looking unit, but after putting it through its paces, I discovered several things that I really didn't like:
1. The package claims the tool has a "One hand easy opening and closing operation," but the reality is that it only closes with one hand; opening it one-handed is a little on the difficult side. While it can be accomplished, doing it one-handed is an invitation to an accident. To truly support this claim, a quick-release or spring blade-release feature could have made opening the tool easier and safer.
2. In the closed position, it does not have a safety lock to secure the blade in the handle. From a safety standpoint, a leather or nylon sheath would help keep the unit in a folded position until ready for use; I think a back lock feature would have been a better design.
3. While the quick-change blade mechanism is a great feature, I noticed a lot of blade movement in the blade cradle.
4. The back end of the blade shaft is crude in its design and finish.
5. The unit doesn't have a good comfortable feel in the hand, whether it's in use or just resting.
My experience in working with, reviewing, and selling USTape products over the years is that you can expect great quality from their products. However, even with the extra five blades supplied with the unit, this folding utility knife is not one of my favorite tools. I would have preferred a higher quality and better-designed product. I'm surprised that USTape does not also offer a higher end product. While a lower end folding utility knife will work well for some users, I personally am willing to spend a little extra for a better designed and more functional product!
Copyright © 02/14/07 LAF/C.R.S., Inc. All rights reserved.
Looking for home improvement Q&As? Click here!
[ Back to Top ]
---