Review Summary
Zibra Company
ZPOPEN-OR
Open It!
Suggested Retail $12.99
Reviewed by Leon A. Frechette
06/25/09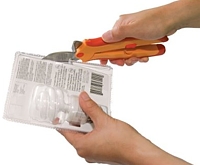 Zibra - Open It! package opener tool
With today's aggressive marketing, merchandise comes fully encased in clear packaging to grab your attention as you walk down store aisles. Marketers hope to entice you to make an impulse purchase. The problem with these clear packages, however, is how they completely seal in the merchandise, making the package impossible to open unless you have a stick of dynamite.
Opening these sealed clamshell packages can cause damage to the merchandise, and a pair of scissors is useless because the package profile makes it impossible to cut off the sealed edge. Have you ever gotten a package open just enough that you think you can rip it open by hand—only to have the case tear in such a way that merchandise flies across the room? Personally, I hate this type of packaging.
Finally there's a better mousetrap! In late 2007 I was sent a tool called "Open It!" and I've been testing it ever since. Actually, I use the tool so much that I forgot to write a review until now.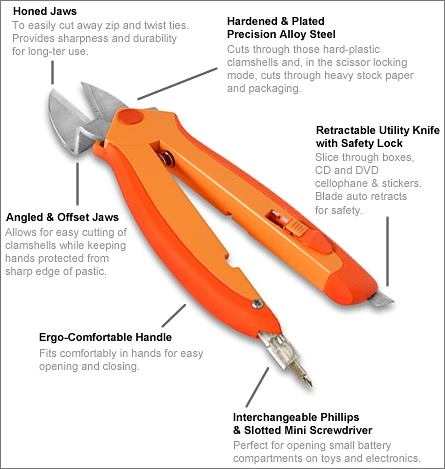 Designing Women, a group of women with the Zibra Company, were so frustrated and aggravated trying to open packaged toys, electronics, and other items, that they developed a tool that would open any package: Open It!
This innovative tool puts an end to the aggravation and injuries caused by difficult-to-open packaging. It really works, and it successfully ends the condition now known as "Package Wrap Rage."
Open It! features patented angular jaws that allow you to cut a hard plastic package while keeping your hands away from the sharp edges of the clamshell. The jaw sizing is engineered to provide maximum leverage while cutting, and the tool is designed for safe and easy use by everyone, including the elderly.
This is a multi-function tool: the handle holds a retractable utility razor blade and an interchangeable mini Phillips and slotted-head screwdriver. The outer edge of the ergo-comfortable handle has rubber for a cushioned and secure gripping surface. It definitely has all the tools required to overcome any and all package-opening obstacles.
After all my testing, I have only two issues with Open It! First, the utility razor blade is not replaceable. Second, the recessed latch does not easily close as designed. There's enough flexibility in the handles that the latch hits the edge of the channel as the latch is being maneuvered into the closed position. The tolerances in this area are way too tight—this is one place where a little slop would be great at the beginning of the channel to allow the latch to swing into place.
Overall, this is one great tool and needs to be available all the time, especially during the holidays and on birthdays as well as to check merchandise in the parking lot before heading home. Basically, you need one in the car, office, kitchen, garage, and shop.
Cut hard plastic clamshells, blisters, cardboard, paper, etc.
Snip toy packaging, twist ties, zip ties, straps, etc.
Slice boxes, CDs, DVDs, plastic wraps, etc.
Unscrew fasteners holding items to packaging, open battery compartments, etc.
Open It! comes in four colors: fire orange, berry red, mocha, and sky blue, and all have two-tone handles. So, pick a flavor and get Package Wrap Rage under control!



CLICK A LINK BELOW TO PURCHASE FROM AMAZON
Zibra ZPCOPEN-OR (orange) Open It Universal Package Opener
Copyright © 06/25/09 LAF/C.R.S., Inc. All rights reserved.
Looking for home improvement Q&As? Click here!
[ Back to Top ]
---