Review Summary
Vance Industries, Inc.
4W816HDV
Two-Tier Vanity-White Organizer
Suggested Retail $17.99
Reviewed by Leon A. Frechette
05/07/01 Updated 02/20/07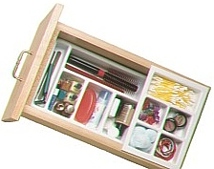 Vance Industries - Vanity drawer organizer
It's probably a safe bet that every home in this country has at least one drawer called the "junk drawer." All kinds of odds and ends get thrown into these drawers and the only thing missing is the kitchen sink! Our house has one—or maybe two—"junk drawers," and the worst are in the bathroom vanity cabinet. Find the toothpaste? Forget it! It's buried under a pile of makeup.
A while back I was introduced to Vance Industries, specialists in drawer organization. The drawer organizer I first tested held silverware, and I wrote about it in my book Accessible Housing. It easily trimmed for a custom fit and increased drawer capacity without requiring drawer modification. Initially, it was great but over time the product became discolored from the silverware. However, its design was helpful and we still use it.
In 2001 I tested Vance's Perfect Fit Vanity Drawer Organizer—a real winner! It fits a drawer 8 5/16" wide x 12" to 16" deep. My wife really had a heyday with it and I now can find the toothpaste.
The bottom part of this two-tier organizer system is the main organizer and the top portion is a secondary tray with smaller compartments. Unfortunately, in order to use this system, the drawer has to be a minimum of 3 1/2" deep, depending on what you want to store in the bottom tray. Because our drawers were only 2 3/4" high, we could only use the main tray.
Manufactured out of polystyrene, these organizers are easy to clean and look great in your bathroom drawers. The product has remained the same since I first reviewed it, however, it now has a new product number and the price has gone up to around $6.
I highly recommend this product for anyone—like me—who wants to find the toothpaste!
To order Accessible Housing, click the purchase button...




CLICK LINK BELOW TO PURCHASE FROM AMAZON
Vance Trim to Fit Junk Drawer Organizer
Copyright © 05/07/01 & 02/20/07 LAF/C.R.S., Inc. All rights reserved.
Looking for home improvement Q&As? Click here!
[ Back to Top ]
---