Review Summary
O'Berry Enterprises
3233 (kit)
Squeeeeek No More
Priced at $28.50
Reviewed by Leon A. Frechette
06/24/06 Updated 04/05/08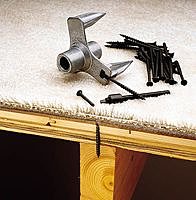 O'Berry Enterprises - Squeeeeek No More
Are you living with an annoying squeak that haunts you every time you walk across the floor?
While finishing my sixth book, Build Smarter with Alternative Materials, I discovered Squeeeeek No More by O'Berry Enterprises, Inc. This product eliminates squeaks, even under carpet. O'Berry's Squeak Elimination Kit (plastic molded alignment and depth control fixture, a square-headed driver bit, and 50 3-inch x 1/8-inch diameter special screws with 3/16-inch coarse threads) provides everything you need to eliminate annoying squeaks without damaging the carpet—all you need is a power screwgun or drill.
The special screws are coated with wax to simplify penetration, especially if no pilot hole has been drilled. Here's how it works:
First, isolate your squeak.
Then seat the screw in the squeaky area as far as the depth control fixture allows.
Finally, rock the fixture back and forth until the screw's 1-inch shank snaps off at the score, leaving 2 inches of the threaded portion of the screw below the surface of the floor. Once the head is snapped off, the threaded portion of the screw will be 1/8" below the wood surface.
The final result: a squeakless floor.
No matter how the floor squeaks, don't just walk away. Take aim and use the proper hardware and tools to solve the problem. Become a "squeak terminator."
To view hands-on instructions and to purchase Squeeeeek No More or O'Berry Enterprises's Counter Snap for hardwood floor squeaks, click here or the purchase button below!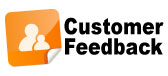 Copyright © 1998, 2006, 02/22/07, & 04/05/08 LAF/C.R.S., Inc. All rights reserved. The previous article,
in whole or in part, appeared in the February 1998 issue of Tech Directions.
[ Back to Top ]
---