Review Summary
Remington Arms Company, Inc.
R2000
Electronic Thinmuff
Suggested Retail $129-$139
Reviewed by Leon A. Frechette
04/23/02 Updated 02/24/07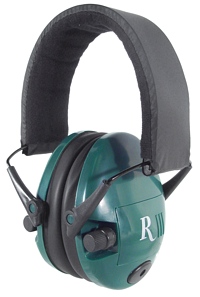 Remington - R2000 electronic thinmuff
As I get older, I realize that I should have taken more safety precautions over the years; for example, protecting my eyes. As a direct result of an eye injury 20+ years ago, my left eye finally weakened to the point that I now need reading glasses. The same holds true for not protecting my hearing from loud music and when working around power equipment, especially worm-driven saws that have an especially high pitch. Consequently, I've experienced some hearing loss, mostly in the high frequencies and now I have tinnitus (ringing in the ears) in my left ear.
I encourage anyone working around any power equipment, gardening and woodworking tools, and any other constant noise, to protect their ears and eyes.
In 2002 I attended a Sears editorial conference and met a sports writer who suggested I test Remington's R2000 Electronic Thinmuff hearing protection. They're designed for sporting events, but I found them useful for both sports and construction.
Less expensive off-the-shelf hearing protection is readily available in local home centers, but I found the R2000 to be different in its design concept compared to other hearing protection devices. Its different design still holds true for the redesigned unit (2006) now manufactured by Radians for Remington. Radians also manufactures hearing protective devices for DeWalt.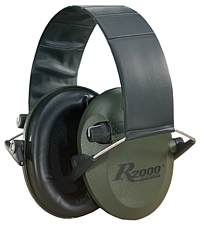 The OD (military) green color of the previous unit (see image, left) reminded me of my time in the service. That's great for working in the field, but for the shop I would prefer a different (bright) color, which would make them easier to find when I put them down. OD green has a tendency to blend in with other things in the shop. The new green is more pleasing to the eye (see image above) and easier to find.
A lot of engineering thought went into the previous design as well as into the current redesigned unit. The cushion foam-filled PVC ear cups are thicker and the vinyl covering is much softer, which permits a better and tighter-sealing fit over and around the ears. The cups themselves have a built-in pivot clip that allows for natural movement and adjusts in a sliding motion for perfect positioning over the ears.
The headband mainframe, previously bare metal, is now powder-coated in black. It sports a thicker pad covered with a new material that wicks moisture away and provides cool comfort while it conforms nicely to the head, a great improvement. Overall, this hearing protection feels comfortable when worn for long periods of time. The muffs themselves are made of ABS.
The real beauty of Thinmuffs is that they are electronic, i.e., they provide protection from both impulse noise and exposure to continuous high noise levels; adjustable volume controls give comfortable listening levels. Level-controlled amplifiers run off 1.5v batteries which control each muff independently.
Over years of testing them both in the shop, in the field, and out sporting clays, I found the redesigned unit to be very effective, and there was really nothing wrong with the previous unit.
After turning the unit on (now a push-in on/off switch to secure positioning) and adjusting the level of hearing, I was still able to hear someone talking while it blocked out noise that would, over time, damage my hearing.
It was pure pleasure to use my shotgun without hearing the full impact of the blast or to turn on the planer without hearing its high-pitched noise from the motor and/or planer blades. Better yet, I was able to use a stud gun indoors and hear virtually nothing after pulling the trigger.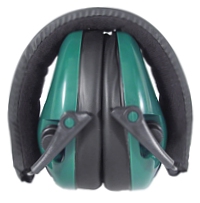 The independent volume control now located below both ear cup frames enables the user to adjust and set a comfortable hearing level. Its two recessed microphones provide total reliability and stereo sound. Loud sounds, such as gunfire above 84 decibels (dB), are compressed while normal conversation is actually enhanced. The new design also features a wind filter and extended battery usage up to 300 hours. The external battery housing allows for easy change out of the four AAA batteries (included). Like the previous model, it is designed to fold within itself for easy storage.
The unit has a decibel (dB) rating of 84. If this number doesn't mean anything to you, just think about the last time you listened to a jet take off. The decibel level of take-off at a distance of 2,000 feet is 110; an auto horn only three feet away can reach the same level. Compare this to the normal level of human conversation, which measures 50 to 60 dB. As you can tell, hearing protection can be a big help!
However, depending on your working environment, these muffs may not be suitable for you. From a "Noise-Reduction Rating" (NRR) perspective, they have a decibel rating of 23 (the previous was 19 to 21), still not the highest. Self-adjusting foam insert earplugs could have a rating between 30 to 34 dB and insert ribbed rubber plugs are around 27 dB, depending on the manufacturer. I personally find insert earplugs uncomfortable to wear, which is why I prefer an earmuff. It protects the whole ear, and I'd rather not insert earplugs into my ear canals.
What does this mean? Basically, the level of noise at ear (dB) could be lowered by the NRR dB number the manufacturer use to rate their product (noise level dB minus hearing protection NRR dB number equals noise level dB at ear). Hearing protection is also recommended to reduce the harmful effects of impulse noise such as gunfire. If the NRR is based on continuous noise, it may not be an accurate indicator of the protection attainable from impulse noise.
The Remington's R2000 Electronic Thinmuffs were designed to provide combination protection from exposure to both impulse noise and continuous high noise levels. I found it to be significantly improved over their earlier unit.
To learn how to choose the correct hearing protection for yourself, click here!
Copyright © 04/23/02 & 02/24/07 LAF/C.R.S., Inc. All rights reserved.
Looking for home improvement Q&As? Click here!
[ Back to Top ]
---