Review Summary
Moen
21070W Glacier (white and gray)
Revolution Massaging
Showerhead
Suggested Retail $52.55
Reviewed by Leon A. Frechette
12/09/05 Updated 02/28/07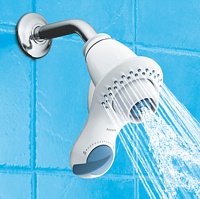 Moen - Revolution massaging showerhead
This showerhead was tested under an unusual set of circumstances. I didn't receive the product through normal channels, i.e, from Moen's marketing or PR departments. Instead, it came from an outside PR firm who sent me an email at the end of January 2005 asking me to fill out Moen's media questionnaire. In exchange for my filling out the online form, they would send me Moen's massaging showerhead.
I've been in this business for over 25 years and have seen all kinds of approaches from manufacturers and PR firms to get products into our hands and/or publicity, but this approach took the cake.
I found this to be quite unusual since I contacted Moen in 2002, asking them to work with me on my seventh home improvement book, Remodeling A Bathroom, published by Taunton Press. Moen turned me down cold and I haven't received anything on new products or heard from them until I received their unorthodox email request.
I filled out their survey in February 2005 and, as of this writing, still haven't received press information on new products except for their At Home Design eMagazine, which doesn't do me any good.
So why am I reviewing this product? The main reason is that I have tested a lot of showerheads, some supplied by manufacturers and some I purchased, and Moen's Revolution Massaging Showerhead is the best that I can stand behind. If you prefer a handheld showerhead, check out Moen's Revolution Massaging Handheld Shower.
Don't get in a big hurry to purchase this showerhead after reading my review. Moen makes it very difficult to even find, much less purchase, this product. Believe me, I've tried! I've checked home centers and online. I even tried to purchase the product to make it easier for you to purchase it after you read my review, and that was nearly impossible.
I've contacted Moen's Director of Public Affairs for assistance but only received instructions to enter my zip code into the online showroom locator to find a distributor in my area. I located a few distributors, but when I asked about purchasing the product, some of them would not sell to me unless I was a plumbing contractor, however, those who are willing to sell don't have them in stock anyway. Moen isn't in a hurry to help line up a distributor to work with.
My main question is, does Moen want to sell this product on the consumer market or are they only interested in selling to hotels and/or the hospitality industry?
I posed that very same question in a letter to the President of Moen in January 2006 and I also asked if we could sell the product online. In February 2006 I received a letter back from the President letting me know that Moen only sells the Revolution showerhead through its established retail and wholesale channels.
And while they appreciate my offer to sell their product to you (my readers) directly, this doesn't conform to Moen's policy. So there you have it!
I hate to repeat myself but I must—don't get in a big hurry to purchase this showerhead after reading my review. Moen does make it very difficult to even find, much less purchase, this product!
Review:
As I mentioned before, I have tried so many different types and styles of showerheads that I was ready to give up until I received Moen's Revolution Massaging Showerhead. I didn't even have to take it out of the package; I knew just from the color and design that this would be a perfect fit in the newly remodeled bathroom on which I based Remodeling A Bathroom . Incidentally, it comes in three colors: chrome/glacier (white)/pebble (gray) for $60.55; glacier/pebble for $52.55; and glacier/green for $52.55.
This shower massage has a very cool style. You'll appreciate its unusual design after you first use the massage head. The engineers took an approach that is completely different from the competition; most massaging showerheads need the user to turn a ring around the showerhead to activate the massage function. In most cases, it doesn't work or, if it does work, the pre-set functions don't deliver the correct massage patterns.
Moen put in a large non-slip dial below the showerhead that is easy to reach and use to start the massage functions. The massage is the bonus of a well-designed showerhead. Turning the dial should not lock you into a pre-set function but rather provide you with an opportunity to manipulate the water's force, frequency, and coverage, all important to me as I seek the perfect shower.
The flow or texture of the water is unique because the patented technology actually spins each water droplet while simultaneously twisting the whole shower stream into a figure-eight design. It can be adjusted from a rain-like shower to a deep therapeutic massage and anything in between.
What's interesting is the increased speed in movement of the water drops. It delivers a perception of higher flow and higher pressure in addition to the sensation of a massaging shower.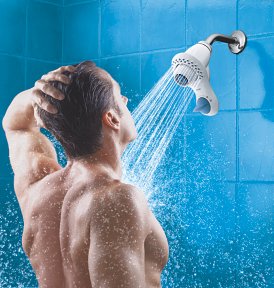 I'm a shower person—it's my only place to get away from it all because my days are busy helping individuals with home improvement questions and projects. A shower gives me the opportunity to collect my thoughts and get myself on track so I can tackle each day with an open mind.
Ordinary showerheads don't deliver the sensation I want from a showerhead. The beauty of Moen's Revolution Massaging Showerhead is that it is two showerheads in one: a massaging head and a normal showerhead that does not deliver a normal showerhead feel and water pattern.
This showerhead provides phenomenal coverage; I hope you've got two water tanks to enjoy the wonderful stream of water because once you start, you won't want to get out. Trust me on this one!
The best way for you to understand what I've been telling you is to try this bad boy firsthand. Moen's Revolution Massaging Showerhead is must for all showers!
To order Remodeling A Bathroom, click the purchase button...




CLICK LINK BELOW TO PURCHASE FROM AMAZON
Moen 21070W Glacier (white and gray) Revolution Massaging Showerhead
Copyright © 12/09/05 & 02/28/07 LAF/C.R.S., Inc. All rights reserved.
Looking for home improvement Q&As? Click here!
[ Back to Top ]
---