Review Summary
Briggs & Stratton
020228
2200 Pressure Washer
Suggested Retail $269
Reviewed by Leon A. Frechette
12/10/05 Updated 03/12/07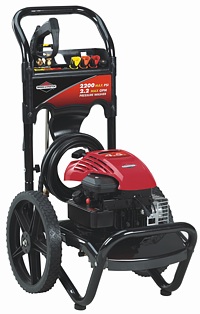 Winterizing your pressure washer
As the days get shorter and the nights colder, it's time to prepare outdoor equipment for winter. Preparing a pressure washer for storage is necessary to keep it functioning properly.
"Typically, pressure washers are used seasonally and sit idle through the winter months. Winterizing your pressure washer is as important to its maintenance as changing its oil," said Scott Alderton, Director of Marketing for Briggs & Stratton Power Products Group. "Proper care and maintenance are essential to keeping a pressure washer performing at its peak for years to come."
Long-term storage can aggravate overlooked problems and allow other problems to develop. Common problems caused by improper winterizing include gummed up carburetors, corroded engine parts, moisture in the ignition, and a lack of water pressure.
Briggs & Stratton recommends the following tips for winterizing a pressure washer:
1. Add fuel stabilizer. Adding fuel stabilizer to stored and unused gasoline prevents it from degrading to the point where it is no longer combustible and prevents the gasoline from gumming up the engine.
2. Flush remaining liquid from pump. Water remaining in the pump during long-term storage can create sediment buildup and freeze pump action.
3. Treat the pump with an antifreeze product. Antifreeze products, such as Briggs and Stratton's PumpSaver™ , are designed to lubricate pistons and seals, prevent freeze damage, and protect against mineral deposits.
4. Flush nozzles and accessories. Flushing and cleaning accessories prevents buildup which can clog these parts.
5. Store in a cool, dry place. Exposure to the elements can corrode and damage pressure washer components.
I wonder how many of us winterize our units for the season?



CLICK LINK BELOW TO PURCHASE FROM AMAZON
Briggs & Stratton 2,550 PSI Gas-Powered-Powered Pressure Washer #20250
Copyright © 12/10/05 & 03/12/2007 LAF/C.R.S., Inc. All rights reserved.
Looking for home improvement Q&As? Click here!
[ Back to Top ]
---