Review Summary
H. Gerstner & Sons, Inc.
100-C41D-B
100th Anniversary Edition
American Cherry Wood Tool Chest
Priced at $670
Reviewed by Leon A. Frechette
03/24/07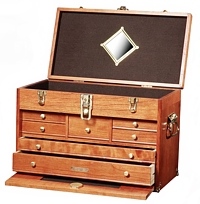 H. Gerstner & Sons - Classic hardwood tool chest
Since I am in the business, I appreciate the quality of well-made products and tools. I've also been intrigued and fascinated by wooden tool chests. There's something about a hardwood tool chest lined with felt that grabs my attention. Over the years I've seen the name H. Gerstner & Sons and knew that they were associated with handcrafted high-quality wooden tool chests, but I had no idea until one was sent to me in 2006 for review to celebrate the 100th Anniversary of the company.
Unfortunately, circumstances beyond my control kept this little jewel in its box until March 2007. I was impressed with it as soon as I handled the double-walled shipping box, something unheard of today. On opening the box, I noticed that the unit was also carefully protected in a foam bag system, the ultimate for safe shipping. I appreciate that this item is well protected during shipping.
H. Gerstner & Sons sent me their 100th Anniversary Edition of the Classic Chest made from American Cherry wood. There is no better way to describe this chest than to call it one incredible piece of furniture!
Originally, this Classic Chest (which dates back to 1910) was designed to protect delicate precision instruments of tool and die workers. While today it can still protect any items or valuables stored in it, it can also serve as the focal point in any room's décor. My tools will never rest in its brown thick felt lined drawers—my wife has already claimed it for her jewelry.
The newer version (pictured above), model 41D Classic Chest 7-drawer series which was created in 1994, is also available in Golden Oak or Natural Walnut and green felt interiors. The chest is 20" W x 13 1/2" H x 10 1/2" D and features tongue-and-groove construction. It sports brass hardware that really shows up against the natural hand-rubbed lacquer finish of a combination of hardwood and hardwood veneers (top and a large portion of the back). This type of construction has always been the same.
I've carefully examined this box many times, and because of its construction, there's no physical way to tell if veneer is being used or not. The use of the hardwood veneered panel helps the box maintain its shape over time. Hardwood construction without the use of veneered panels would allow far too much movement over time and climate changes. Gerstner tells me that they use hardwood veneers over birch plywood, which is actually more expensive than solid hardwood.
Gerstner's products are still handmade in Dayton, Ohio. When you look at the quality of the materials and the craftsmanship that have gone into these chests, you almost feel as though you have stepped back in time.
My 100th Anniversary Edition chest included a brass 100th Anniversary Medallion embedded in the upper top rail of the front of the chest and the original script logo laser-etched on the mirror inside the top lid. The lid itself has a raised panel and the unit is designed so the lid drops down and slides back into the unit. If you pull it out a bit, you can place items on the felt-lined area when you take them out of the drawers. I did notice that if I wanted to use the full surface of the lid, the chest needs to sit on a surface that provides full support because it's not designed to support itself. However, that would be a great feature to incorporate into the design. I like the fact that both the drop-down lid and the chest lid lock with a key.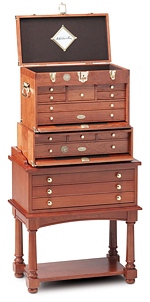 The detail is the same throughout the unit including all the drawers, no matter what size they are—the small drawers are great for small pieces that can easily get lost in a larger drawer.
While I think the chest is a beautiful piece of work, it seems to be somewhat incomplete as a stand-alone unit. I see in their catalog that they offer a base that would make this unit complete, and they also offer a display table that will accommodate both the base and chest. I can see it now—I'll have to order the other two pieces for a complete piece of furniture that my wife will enjoy filling with all her jewelry.
To protect it all from dust, moisture, and scratches, I'll also need to order the deluxe heavy-duty vinyl fabric cover that has two zippers for access to the base and chest without removing the cover.
This unit and the other products featured in the catalog are on the expensive side, but they are handcrafted from high-quality materials and worth every penny you invest. They are destined to become heirlooms that will be handed down from one generation to the next.



CLICK LINK BELOW TO PURCHASE FROM AMAZON
Gerstner Classic 20-Inch American Cherry Wood Chest with Brass Hardware #C41D-B
Copyright © 03/24/07 LAF/C.R.S., Inc. All rights reserved.
Looking for home improvement Q&As? Click here!
[ Back to Top ]
---