Review Summary
Ridgid
VT2525
Noise Muffler
Priced under $12
Reviewed by Leon A. Frechette
03/06/99 Updated 06/09/04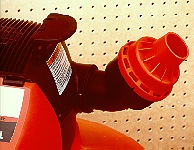 Ridgid - Noise muffler
Is your wet/dry vac a little noisy? Check out Ridgid's noise muffler—it's incredible! This muffler is designed to fit Ridgid's products; however, if your unit has a 2 1/4" exhaust porthole, this will fit. The manufacturer doesn't supply reducers or couplings to fit competitors' vacuums, but it is possible that plumbing and/or dust collecting fittings can be used to make it fit even if your unit's port size is not 2 1/4".
The noise muffler reduces the noise level by 25 percent. To my ear (and you will hear the difference for yourself), it seemed more like about 50 percent. I used to show this product at my Tool Talk shows, and the number one question from the audience was: "Once installed, will it take away from the performance of the unit?" You will notice some reduction in performance; however, it's very minimal. The Rigid brand can be purchased from The Home Depot, tool suppliers, wholesale outlets, and industrial suppliers around the country, but this item is also available at Sears under the Craftsman brand. If you want to cut noise, this accessory item is one to consider.
Copyright © 03/06/99 & 06/09/04 LAF/C.R.S., Inc. All rights reserved.
Looking for home improvement Q&As? Click here!
[ Back to Top ]
---