Review Summary
Marshall Tools Ltd.
Bkit
Bricky (wall-building tool)
Suggested Retail $120
Reviewed by Leon A. Frechette
06/24/06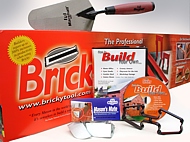 Bricky - The professional wall-building tool
In 2005 a gentlemen in Ireland called to ask me to try Bricky, a wall-building tool he invented. His product is actually a system that allows the user to lay blocks or bricks with uniform spacing for near-perfect mortar joints. I was intrigued by the possibilities, so I researched the tool and how it worked.
In early 2006 I was invited to appear in their infomercial. I gladly accepted and started my own project, backyard walls. Of course, once I got started, there was no turning back, as you can see in the photo. Now my mind is in overdrive with ideas for future projects.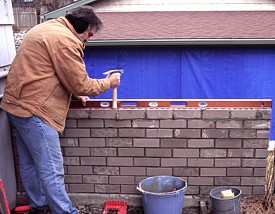 If you want to construct a raised flower bed, BBQ, fire pit, firewood storage unit, property divider (brick/block fence) or entrance wall, mailbox base, fish pond or water feature, garage, workshop, home addition, porch, or entryway from brick, Bricky is the tool you need to achieve a high-quality professional finish.
The system includes a round-nose trowel, Mason's Mate (to help level the bricks), Pro-Pointer (for pointing mortar joints), and both the horizontal and vertical guides that help lay the mortar on horizontal and vertical surfaces. The kit also includes a DVD that shows how to build a small workshop or office in brick.
Bricky is a simple but highly effective tool that acts as a template to ensure that a perfectly uniform bed of mortar is laid between courses of bricks and blocks. It is suitable for standard brick and block on-edge construction in both US and Metric dimensions:
• US Bricks: 7 5/8" x 3 5/8" x 2 1/4"
• US Blocks: 15 1/2" x 7 1/2" x 3 5/8"
• Metric Bricks: 215mm x 102.5mm x 65mm
• Metric Blocks: 440mm x 215mm 100mm
Made from injection molded plastic (ABS), Bricky is extremely durable, rigid, and resistant to the elements, as well as lightweight and easy to use. Wall construction requires both horizontal and vertical joints between every brick and block. The Bricky tool addresses both types of joints with its horizontal and two vertical mortar guides.
The Horizontal Guide includes the following features (the sizes listed below are given in rough measurements):
Level vials on both horizontal planes.
A 40" (900mm) long template to receive a 1/2" (12mm) thick layer of mortar. This thickness is specifically calculated to allow for 1/8" (2-3mm) natural compaction and ensure that a standard 3/8" (10mm) joint is achieved and securely bonded.
An open back end to allow the tool to slide along the wall as work progresses.
Four spring-guides to ensure that the tool remains centered on the wall. The springs' rounded edges allow the user to guide the tool along the wall. Protective cases are specifically located so the mortar bed will meet precisely at the corners.
The Vertical Guides include the following features (the sizes listed below are given in rough measurements):
Two vertical guides to address vertical joints in brick and standard blocks.
A template to receive a 7/16" (11.5mm) vertical bed of mortar. This thickness is specifically calculated to allow for 1/16" (1.5mm) natural compaction and ensure that the standard 3/8" (10mm) finished joint is achieved and securely bonded.
A vertical guide designed to ensure that the user can quickly plaster in the vertical joint. The positioning guides are rounded at the ends to allow placement with speed and ease.
An ergonomically designed handle for user comfort.
I put the tool to the test and found it takes time to learn how to comfortably and confidently work with it. Not only do you have to level bricks horizontally using the Mason's Mate with a mason's level line, but you also have to keep an eye on the vertical plane. This is where a mason's level comes in handy, its size depending on the height of a wall under construction. A small torpedo level will help level bricks on the short plane.
Overall, the system works well, but a few changes or additions to the kit could make it complete:
A short horizontal mortar guide with an open end to allow the user to position the guide closer to an obstruction.
An extension to the lower inside guide on the vertical mortar guide to make it easier to hold if you prefer to hold the brick and guide when applying the mortar.
Elimination of the lug on the side of the vertical guide. While the guide is comfortable to use, the lug on one side for pointing got in the way when I used a mason's level line (I cut off the lug).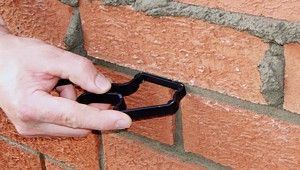 The Pro-Pointer is an interesting tool. It's easy to tap down on the bricks too much, causing the mortar joint to close up and yield a not-so-uniform joint. Uneven joints can be difficult to point with a single-size pointing tool. Bricky Pro-Pointer features four different sizes to handle the unexpected or a variety of mortar joint sizes. You'll probably end up using a least three of the four sizes; with practice you'll achieve uniform joints and use only one size on the pointing tool.
To complete a project you'll need a brick splitter or mason's saw to get accurate and clean cuts (this tool can be rented), level line, level, and torpedo level. Also calculate the wall dimensions to full- or half-sized bricks to avoid unnecessary cuts. Remember that dry bricks absorb the mortar's moisture, preventing it from setting properly. To avoid this, soak or spray the bricks with water but allow them to surface dry before placement, otherwise, the mortar will get too wet.
Prior to pointing, mortar has to set up, a process that can take up to three hours depending on working conditions. If you point the wall too early, the wet mortar can stain the edges of the bricks as excess mortar is removed. If you wait too long and the mortar sets up too hard, pointing will be difficult. It's important to test your mortar joints to determine the best time to point—if it is allowed to slightly set up, the excess mortar will fall without sticking or staining, leaving perfectly clean pointed joints.
Benefits to using the Bricky:
Increases productivity—up to 300%
Eliminates mortar waste—traditionally 40% is wasted
Creates no mess—no mortar falls into cavities
Ensures precise joint spacing—standard 3/8" (10mm)
Automatically points joints to perfection—1/4" recess (6mm)
Assures joints are completely filled with mortar—no gaps
Requires no follow-up raking out, acid cleaning, etc.
This is one tool I highly recommend, and I'm confident that you'll enjoy using it as much as I did. If you want a great-looking brick project that can be done quickly, then Bricky, the professional wall-building tool, is for you. To learn how to use Bricky, click here!

Copyright © 06/24/06 LAF/C.R.S., Inc. All rights reserved.
[ Back to Top ]
---