Review Summary
Fypon
Pembroke (pattern)
Ceiling Medallion
Priced around $37.50
Reviewed by Leon A. Frechette
01/06/02 Updated 12/09/05 & 02/28/07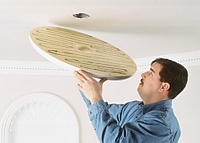 Fypon - Ceiling medallion
Is there a better way to spruce up a chandelier than with a ceiling medallion? This decorative touch goes hand-in-hand with crown mouldings.
I had the opportunity to install a medallion by Fypon, the leading manufacturer of architectural urethane millwork products. If you are considering a ceiling medallion for your light or fan fixture, there is no need to bring in a master plasterer. Fypon offers over 30 ceiling medallions ranging in sizes from 7 to 32 inches in diameter. They are available in simple classic designs, ornate floral patterns, and traditional styles, both as solid pieces for placement in the center of the room on the ceiling as an accent piece and ones with a hole already cut for electrical and fixture placement. Even if you select a style without the center hole, it is a urethane product so the material is easy to cut.
Installing a Fypon urethane ceiling medallion takes about 4 hours, and that includes about 2 hours for the premium millwork adhesive to set up. The adhesive is specially formulated for use with urethane millwork.
A couple of 2x2s cut to length will hold the medallion in place while the adhesive sets up, or you could use fasteners into the joist or hollow wall fasteners, highly recommended by the manufacturer. When using fasteners, you will need to patch the fastener holes. This is a decorative piece of art and adequate drying time will yield a better end result.
Selecting the correct medallion style for the room should be your first priority. Be sure it's the correct size for the room and that the design fits with the era of the home. For more information about correctly sizing your medallion, click here.
Fypon fashioned their products to resemble the ornate plaster medallions from days gone by, but today's urethane medallions are lighter in weight, more affordable, and easier to install than heavier plaster versions. To learn how to install the product, click here.



CLICK LINK BELOW TO PURCHASE FROM AMAZON
16''OD x 3 7/8''ID x 1 1/8''P, Ceiling Medallion, Florentine
Copyright © 01/06/02, 12/09/05, & 02/28/07 LAF/C.R.S., Inc. All rights reserved.
Looking for home improvement Q&As? Click here!
[ Back to Top ]
---