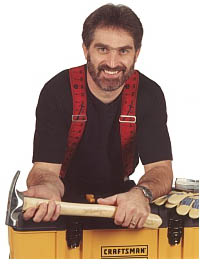 Leon A. Frechette, an industry authority, spent over 36 years in construction and 25 years as a tool reviewer. His wide-ranging interests and experience include a remodeling consulting firm, tool development and testing, and product evaluation.
After eight years (1997-2005) of presenting his high-energy "ToolTALK" and "ToolTIPS for Women" shows to standing-room-only crowds from coast to coast and answering Q&As in his weekly newspaper column ("The Tool Guy") from 2003-2006 in The Spokesman Review "Home," he's redirecting his energy to focus on his many home improvement sites currently under development.
His ongoing career has brought many challenges and rewards on the editorial side of the home improvement industry.
In 1995 he received Stanley's Golden Hammer Award for "How to Install a Garage Door Opener," a short-subject article published in the January/February 1995 issue of HomeImage Magazine.
In 2000 he received the Vaughan/National Association of Home and Workshop Writers (NAHWW) Golden Hammer Writing Award for his book "Build Smarter with Alternative Materials" published by Craftsman Book Company.
In 2003 he received the Vaughan/NAHWW Golden Hammer Writing Award for Best How-To Electronic Media for "Dress Up Your Chandelier With A Ceiling Medallion"; in 2007 he received the Vaughan/NAHWW Golden Hammer Writing Award in the Internet Category for "Bricky - The professional wall-building tool"; and in 2008 he received the Vaughan/NAHWW Golden Hammer Writing Award in the Internet Category for "Learn How to Read and Choose a Tape Measure."
In 2009 he wrote a news wire feature release titled "Do-It-Yourself Tips On Silencing Squeaky Floors" for North American Precis Syndicate, Inc. (NAPS). This piece ran from January 2010 until August 2011. NAPS honored him with a Golden Thinker Award and a Certificate of Excellence for Superior Achievement in the Media Relations. These awards are given each year to individuals who create feature releases that are picked up the most by America's newspaper editors. The number of placements a release achieves is a great measure of its success. The results of his release, 1,396 placements, have been absolutely extraordinary.
Leon makes numerous appearances on local and national television and radio shows as well as at Home and Garden Shows throughout the United States and Canada. He provides practical know-how to both professionals and DIYers. In the last ten years he has written the following books:
Remodeling A Bathroom (The Taunton Press, 2004)
Build Smarter with Alternative Materials (Craftsman Book Company, 1999)
Accessible Housing (McGraw-Hill, Inc., 1996)
The Builder's Guide To Decks (McGraw-Hill, Inc., 1995)
Bathroom Remodeling (TAB Books/McGraw-Hill, Inc., 1994 out-of-print)
The Pre-Development Handbook The Permit Process For Multi-Family Housing: New Construction and Rehabilitation (C.R.S., Inc., 1991)
The Helping Hands Guide to Hiring A Remodeling Contractor (C.R.S., Inc., 1988)
Additionally, he has authored over 100 articles on a variety of home repair/remodeling topics for the following magazines and newspapers:
Building & Remodeling News
Craftsman at Home
Extreme How-To
HomeImage
HomePlans for Today
Popular Woodworking
Remodeler's Edge (newsletter)
Successful Contractor
S.K.U. Magazine

Tech Directions
The Free Press (alternative newspaper)
Tools of the Trade
Woodworker
Workbench
Woodworker's Journal
"The Tool Guy," a weekly newspaper column in The Spokesman Review "Home"
Contact Leon through eMail at crs@asktooltalk.com. To see his full bio, click here!
---
Looking for home improvement Q&As? Click here!
[ Back to Top ]
Related Search Terms: author Leon A. Frechette, how to read a tape measure, garage door opener, alternative materials, medallion