Aluminum is one of the most abundant elements on earth—and one that is most toxic to humans. Exposure to aluminum has raised some health concerns over the years. Studies indicate that a small amount of aluminum leaches into food products when they are cooked in aluminum cookware, bakeware, or foil. The amount of leaching increases when the food to be cooked is highly acidic, for example, fruits such as berries and tomatoes, tomato sauces, vinegars, orange juice, rhubarb, and sauerkraut.
The Michigan State University Extension Service points out in their review titled "Cookware Today" that the FDA reviewed existing data because of consumer concern and formally announced in May 1986 that the agency "has no information at this time that the normal dietary intake of aluminum, whether from naturally occurring levels in food, the use of aluminum cookware, or from aluminum food additives or drugs, is harmful." However, the FDA does require extensive testing of any coating, plastic, or container type for any food products, so I'm not sure where the FDA stands today on the subject.
The review also points out that one reason aluminum became popular for cookware is because it is an excellent heat conductor: heat spreads quickly and evenly across the bottom, up the sides, and across the cover of an aluminum pot to completely surround the food. Cookware manufacturers have since developed a process for treating aluminum that retains the heat conductivity properties of the metal but changes aluminum in other ways. The process, anodization, involves a series of electrochemical baths that thicken the oxide film that forms naturally on aluminum. Food barely sticks to the hard, smooth surface of this altered aluminum, making it easier to clean. Anodized aluminum cookware doesn't react to acidic foods, so these pots and pans are top choices for cooking fruits and sauces with tomato, wine, and lemon juice.
There's some interesting reading to help you reach your own conclusions on the subject of aluminum. I recommend that you take the time to read them:
1) "Cookware Today" by Michigan State University Extension has a review posted on materials in popular use in cookware today. This review may serve as a guide to safe cooking.

2) Enriching Gifts of Oregon researches and finds out where and how products are produced. They carry products that they use themselves and offer solutions outside of traditional health care. They have an interesting article on "Aluminum Toxicity" that is worth reading.

3) Dr. Staff, an experimental (research) psychologist, has written "Aluminum & Alzheimer's Disease" that I found very interesting and you may find it interesting as well.
I recommend not cooking foods in aluminum where the aluminum surface hasn't been protectively coated. If possible, replace aluminum cookware and bakeware with ceramic-coated iron cookware/bakeware, stainless steel cookware, heatproof glassware, or anodized aluminum cookware.
This would also apply to aluminum potato nails currently on the market. Because the nail would be in direct contact with the potato during baking, aluminum may leach directly into the potato, exposing the consumer to aluminum.
Aluminum foil or parchment paper?
Just about every kitchen has a roll or two of aluminum foil. I have mixed feelings on this product because it's so versatile. Currently I use it only to protect my sheet pans and as a barrier on top of the BBQ grill so as not to burn the potato skins. In both cases the foil is discarded once I'm done with it. I used to wrap my potatoes with foil, but I discontinued that step after I attained a better understanding of aluminum leaching into foods.
It's time to look for alternative potato-baking products to replace aluminum foil. Because I have a convection gas stove and I cook a lot on the BBQ, alternative potato-baking products will have to hold up in these environments. Parchment paper is one product I recommend. I use it to protect my sheet pans and to line the inside of the aluminum foil before I wrap my potatoes.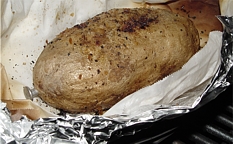 The Reynolds brand parchment paper is a natural high-density paper with a non-stick coating that can be used to line everything from cookie sheets to cake pans to muffin tins. Parchment paper can be used in the oven for non-stick results without additional grease or spray. However, do not let parchment paper hang over the edges or touch the oven rack or oven wall. It is normal for exposed parchment paper to turn darker than the areas around the baked goods. Reynolds Parchment Paper has been tested to safely withstand oven temperatures up to 420°F. While it can be used in the microwave, it is not intended for use on BBQs or over an open flame.
I have tested parchment paper pouches both in the oven and on the BBQ; however, I encased the parchment paper in aluminum foil (see photo above) and placed the pouches on a sheet pan with a broiler rack or grilling stone (ribbed side up) or raised vented pizza pan (holes in the pan).
---
Get the facts on baking a potato—and then some! continues on Page 3.
---
| | |
| --- | --- |
| | Spud Spikes® potato nails are food-grade 100% stainless steel nails. When inserted into potatoes before baking, they help transfer oven heat to the potatoes' centers, allowing them to cook outward. This decreases overall baking time and saves you money. No kitchen should be without them—order your set of eight today! |
---
Safety:
This goes without saying, but I will say it anyway: protect your fingers, hands, and arms when working in and around an oven or BBQ, especially when removing a hot potato and/or hot Spud Spikes® potato nails. Use oven mitts or kitchen tongs when handling hot potatoes and/or hot Spud Spikes. Spud Spikes are sharp-pointed food utensils that requires care when handling, inserting, or if accidentally dropped. Never handle by the point, never have your hand in front of the point when inserting, and never attempt to catch the spike if it should fall. Spud Spikes are not designed for microwave use.
Disclaimer:
By using the information referenced therein, you agree to release and hold harmless C.R.S., Inc. and asktooltalk.com, its officers, its employees, and the author from any liability. Any products, materials, procedures, and all information, advice, and instruction are given as general guidance only. All safety instructions on products should be followed. The material is distributed "as is"; no express or implied warranties of any kind are made, including, but not limited to, fitness for a particular purpose.
Copyright © 10/01/2011 LAF/C.R.S., Inc. All rights reserved.
Looking for home improvement Q&As? Click here!
[ Back to Top ]
Related Search Terms: Spud Spikes, Baking Potatoes, potato nails, parchment paper, aluminum foil, baking with aluminum, Page 2